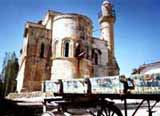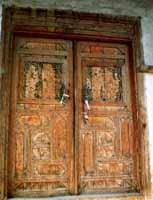 Karaman, once the capital of the Karamanid Emirate, was the first Turkish state to use Turkish instead of Persian as its official language. Fittingly, Yunus Emre, the first great poet to write in Turkish, lived here in the 13th century. The surrounding fortresses date from Seljuk times, although the town's most significant buildings, the Araboglu, Yunus Emre and Aktekke Mosques and the Hatuniye Medrese, were all built during the Karamanid reign.
The Region of 1001 Churches, the Karaman region, 150 kilometers from Konya is an undiscovered, mystical land of gently rolling hills and valleys, towering mountains, many monasteries, churches and chapel-complexes. It is a paradise for photographers, walkers, nature-lovers and explorers. The Hittites settled in this region and many remains, including inscriptions have been discovered. One of the highest mountains in this region, Mt Karadag (2,288 meters),is locally called Mahalac; its ancient name is Angel Michael. On top of the mountain, Hittites constructed a temple; an altar where inscriptions remain. There are also the 4th century remains of a monastery, church and a chapel complex; the name of this complex was the Angel Michael Complex. There is a beautiful view here.Visitors can still see the remains of churches and chapels at Madensehir, 45 km from Karaman, on the northern slope of Mt. Karadag.
Derbe, 30 km north of Karaman, was an important early Christian settlement; St. Paul came here to preach. Near Taskale, 48 km east of Karaman, on the rocky northern slope of Yesildere Valley, are the remains of the fascinating historical city of Manazan. Built during Byzantine times, the entire city of narrow lanes, houses, squares, storage facilities, chapels and cemeteries (occupying an area approximately three kilometers long and five stories high) was carved into the rocky hillside of the valley. Today, parts of the city are still used for wheat storage. South of Karaman up a steep narrow road are the remains of a beautiful Byzantine monastery Alahan. Much still stands, and there is some fine stone carving to admire. This magnificent location offers a breathtaking view.